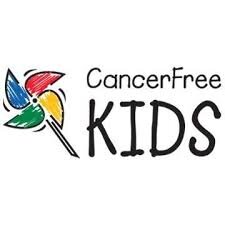 Help Strike Out Cancer!
All-Time Total Donation: $24,684.60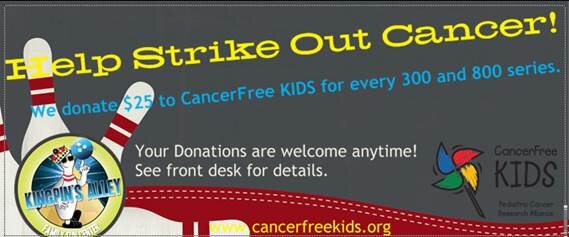 Cancerfreekids.org is the official charity of Kingpin's Alley.  KPA owners, Doug and Alison Bohannon chose this wonderful organization in 2013 shortly before they took ownership of the bowling center.  Cancer Free Kids raises money and awareness for pediatric cancer research.
In May of 2012, a sweet young girl named Kirsten Olander was diagnosed with lymphoma.  Kirsten was a dear, family friend of the Bohannon's and when she passed away on June 12, 2013 Doug & Alison looked for a way to honor her memory.
Sam Flannery and his wife are the founders of Cancer Free Kids and Sam is an associate of Alison's through her work in the paper industry.  It only made sense that this was the route to go.
Kingpin's Alley is known for its big scores.  300 games and 800 series are quite common.  The Bohannon's decided to use this as a basis for its annual donation to Cancer Free Kids.  Beginning with the 2013-14 season, Kingpin's Alley has donated $25 for every 300 game and 800 series thrown in their establishment.  In the first season our bowlers shot enough honor scores to bring our donation to $3000.00.  During the 2014-15 season we did even better with a total of $3300.00 raised by our bowlers. For the 2015-16 season our donation reached a total of $4000, our biggest amount yet.  During the 2017-18 season our bowlers helped us donate $2680.00.  During the 2019-2020 season our bowlers helped us donate $1850.
During our first post pandemic season of 2020-21, KPA bowlers tossed enough honor scores to raise $3000. Our annual donation will be made in December and we thank all of our bowlers for helping us fight childhood cancer.
This program is up and running again this season and so far our bowlers have helped raise:
But that's not the only way to contribute.  We take donations all the time with a donation box located at our customer service desk. Be sure to visit www.cancerfreekids.org for more information.