OUR STORY
Kingpin's Alley Latham is a family owned bowling center, located in Latham, NY. 
Our mission is to provide a top quality bowling experience so that our bowling guests and their families will return again and again. We provide birthday parties, group events, casual open bowling times, and competitive league play. 
cancer free kids
Your Kingpin's Alley Management Team
Doug & Alison Bohannon – Owners
Doug & Alison Bohannon completed their purchase of Spare Time South Glens Falls on July 18, 2013 and promptly renamed the center KINGPIN'S ALLEY FAMILY FUN CENTER. Bowling is nothing new to this couple. Doug has been in the bowling industry for the better part of 25 years, starting out as a bowler. In 1999 he took a part time position with the previous owners, BOWL NEW ENGLAND at their center in Lake George. A year later Doug took over as the head mechanic there and he would spend the next 13 years in that capacity along with two stints as manager.
In 2011 Doug was named Bowl New England's Employee Of The Year for his exceptional work not only in the bowling center but with leagues, pro shop work, and he was also serving the company as their lane machine tech. Doug has made a reputation for himself as one of the finest lane machine techs around (he was nominated for USBC Laneman Of The Year in 2011) and he is known for the record setting scoring by his bowlers.
Fast forward to 2013. Doug & Alison were afforded the opportunity to purchase this bowling center in South Glens Falls by BNE. It was a dream come true and they jumped on it. With Doug's knowledge of the bowling business and his wife Alison's business savvy (she is a graduate of SUNY Brockport with a degree in international business) this power couple were more than up to the challenge of running their own business.
Doug & Alison live in Queensbury with their daughters, Gaby and Calla.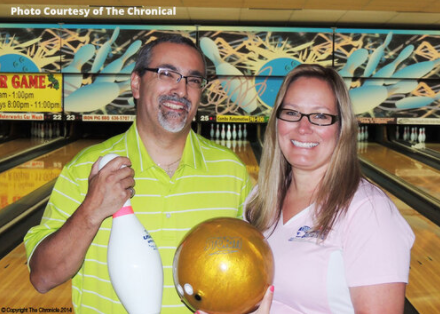 Carol Judge – General Manager
Carol has many years of bowling center management at the Latham facility. She was the proprietor of Bowler's Club for 22 years. Carol is one of the most well-known managers in the capital region bowling circuit. She has held many local and state positions and awards. Carol was the Executive Director of the NEBPNY for 14 years and the Executive Director of Huck Finn Capital Region Bowling for 13 years. She is a member of the Albany BA Hall of Fame, Capital District Bowling Proprietor Hall of Fame and was Bowl New England's Employee of the Year in 2013. She has held 11 National BPA tour stops.
Carol prides herself in knowing all her customers with many being like family.  Carol brings 17 years of center management at the Latham facility for the previous owner Bowl New England.